Princess Cut Onyx & Cubic Zirconia Silver Ring
Princess Cut Onyx & Cubic Zirconia Silver Ring Gemstone Silver RingsSilver RingsRings Jewellery Categories Home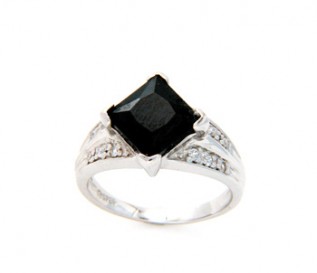 A Stunning Faceted Black Onyx and Cubic Zirconia Ring set in 925 Sterling Silver .
The ring is available in size L1/2 and M. Please contact us if you need any other size.
Onyx gemstone is the Birthstone for the month of February, while it is the Mystical Stone for December and a Lucky Charm for people under the Leo zodiac sign. It is also the known gem for a Couple's Tenth Wedding Anniversary.
All our Jewellery designs can be customized in any carat and/or colour of Gold or in Platinum and can be used making different Gemstones of different sizes in any ring size. Please contact us at info@celestelondon.com for any enquiry.