3-4mm White Pearl 4 Strand Necklace with Agate
3-4mm White Pearl 4 Strand Necklace with Agate Pearl Necklaces with Silver ClaspsPearl Necklaces & PendantsNecklace Jewellery Categories Home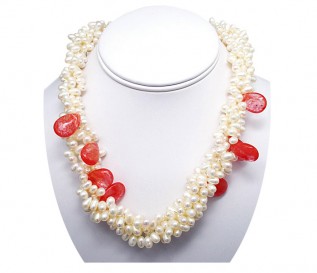 A Stunning White Freshwater Pearl and Agate Necklace. The Pale Pink Flat Drop Shaped Agate Beads are strung with 4 strands of 3-4 mm White Freshwater Pearls to create a Stunning Playful piece. The Necklace is 18 inches in length and is finished with a Beautiful Designer Round Clasp.
The Necklace can be worn as a Twist Necklace or a 4 Strand Necklace. Also a Pendant complimenting the Necklace can be worn on the Clasp to create a totally different look!
Pearl is the Birthstone for June.
Agate is the Birthstone for June.
All our Jewellery designs can be Custom Made in any carat and/or colour of Gold or in Platinum and can be made using different Gemstones. Please contact us at info@celestelondon.com for any enquiry.