925 Silver Three Colour Bangle
925 Silver Three Colour Bangle Plain Silver BraceletsSilver BraceletsBracelets Jewellery Categories Home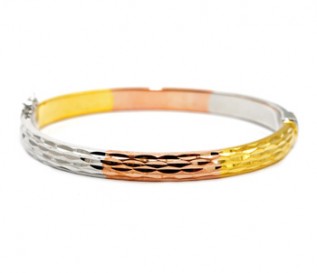 A Beautiful 925 Sterling Silver Side Open Bangle. The sterling silver bangle has a White, Yellow and Rose Gold Colour Finish with a beautiful curvy Diamond Cut Pattern. The bangle has a figure 8 clasp.
The diameter of the bangle is 5.8cms.
All our Jewellery designs can be Custom Made in any carat and/or colour of Gold or in Platinum and can be made using different Gemstones. Please contact us at info@celestelondon.com for any enquiry.