925 Silver 5 Charm Bracelet
925 Silver 5 Charm Bracelet Plain Silver BraceletsSilver BraceletsBracelets Jewellery Categories Home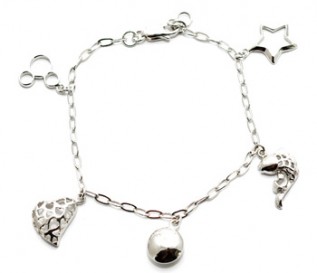 A 925 Sterling Silver Charm Bracelet. The bracelet comes with a Mickey Mouse Charm, Heart with Multiple Hearts Charm, a Silver Disc Charm, a Fish Charm and a Star Sterling Silver Charm . More charms can be added on to the other links of the bracelet.
The total length of the bracelet is 8 inches.
All our Jewellery designs can be Custom Made in any carat and/or colour of Gold or in Platinum and can be made using different Gemstones. Please contact us at info@celestelondon.com for any enquiry.