7-8mm Drop Multicolour Pearl 48 Inch Necklace
7-8mm Drop Multicolour Pearl 48 Inch Necklace Pearl Necklaces with Silver ClaspsPearl Necklaces & PendantsNecklace Jewellery Categories Home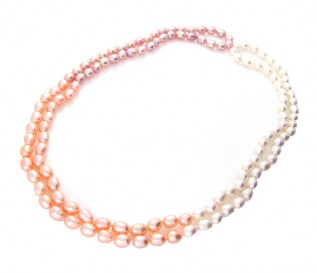 A Beautiful Multicolour Freshwater Pearl Long Necklace. The Drop 7-8mm lustrous White, Peach and Pink Freshwater Pearls are individually knotted on silk strand in a Long Colour Graded Necklace Design. The necklace is 48 inches in length and has no clasp. It can be worn as a Long Single Necklace or can be wrapped up twice to create two different lengths.
Pearl is the Birthstone for June.
All our Jewellery designs can be Custom Made in any carat and/or colour of Gold or in Platinum and can be made using different Gemstones. Please contact us at info@celestelondon.com for any enquiry.